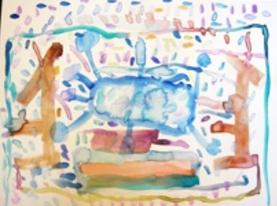 Dementia Care Art Programs GoldMind Arts leads art programs for those living with memory loss. The program is specific to the abilities and functions of participants, and can produce many benefits. Led by a professionally trained artist, the goal is to engage and challenge the participants while having fun.

Art Discussions and Hands-on Art Workshops for Older Adults Workshops May be conducted for groups or individuals and can be held in private homes, senior centers, residential care facilities, hospital or on location in Chicago. Lead by a professional artist, each participant creates their very own original piece of art. GoldMind Arts can provide workshops in painting, ceramics, collage, printmaking, drawing, sewing and more.

Intergenerational Art Discussions and Hands-on Art Workshops We coordinate and lead an intergenerational art program with older adult and student groups. Art discussions and activities are designed to encourage sharing and discovery. These programs are wonderful to create custom mosaics, murals, even quilts to commemorate the experience.

Professional Development and Training We train caregivers, CNAs, nurses and activity directors to incorporate art and creativity in the lives of their patients and loved ones. This not only brings meaningful art to countless older adults, including those with dementia, but also provides participants a new way to relate to their loved ones, residents and patients.

Volunteer-Intern-Student Training We train and support volunteers, students and interns working in the field, ensuring best practice and educating more and more individuals to the needs of older adults. This program consists of theoretical and didactic instruction and provides participants with a broad knowledge base of theory, the current field, specific techniques and a hands-on art making experience.

Custom Environment Art GoldMind Arts co-designs and creates custom permanent art installations, such as murals and mosaics, on-site in facilities. These artworks help cultivate a comforting and colorful environment. The facility staff and participants can collaborate with GoldMind Arts on the design process, and help improve and personalize spaces leading to a more engaged community.